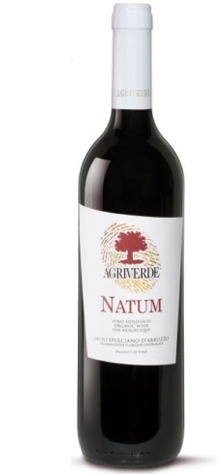 SILVER MEDAL AT ENTERNATIONALER BIOWEINPREIS 2013
EVALUATED: "Great wine, from the sensory point of view, Excellent"
Wine produced without any substance of animal origin.
BIOVEGAN certifed by ICEA
For the wealth of Mankind, with respect for animals, for the future of the Earth.


Denominazione di Orgine Controllata
Kind: Still Red
Name of the Vineyard: Finamore
Exposition: South – South East
Altitude: 250 m above sea level
Growing system: Abruzzo bower and spurred cordon rows
Density (grapevines per hectare): Bower: 1800, cordon: 4000
Average production per hectare: 10 tons
Harvesting period: First week of October
Alcoholic strength: 13 % vol
Bottle: 75 cl
Montepulciano d'Abruzzo 100%
Description
Click to listen highlighted text!
COLOUR :: Ruby red with an ample and dense violet color.

AROMA :: Berry fruit, blackberry, raspberry and blueberry in combination with spicy notes of licorice, leather and china. Fragrant floral note Pansy. The mouth is balanced, medium body is in perfect symmetry with tannin taste olfactory jaunty.

Serving Temperature: 18°C
Click to listen highlighted text!
Address
Street: Via Stortini 32/a
Postcode: 66020
State: Abruzzo
Province: Chieti
City: Caldari di Ortona
Country: Italy