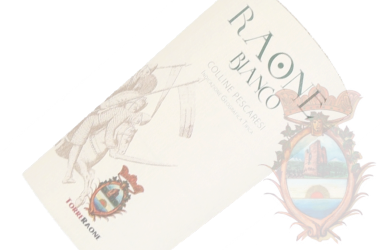 IGT Colline Pescaresi
Vintage: 2014
Color: White
Alcohol content: 12,5% vol
Temperature: 8-10°C
Cellar Temperature: 8-10°C
Vineyard Varieties: Pecorino, Pinot Grigio, Incrocio Manzoni 6.0.13 organic farming
Exposure: South – South East
Altitude: 350 mts asl
Training system: Guyot
Density (plants per hectare): 3,300 / ha
Soil type: Clay - calcareous
Average production per hectare: 9,000 kg / ha (90 q / ha)
Harvest: Beginning of September
Residual Sugar: 2.8 g / l
Total acidity: 5.92 g / l
Pecorino
Pinot Grigio
Incrocio Manzoni 6.0.13
... Biological agriculture
Description
Click to listen highlighted text!
A modern and original cut of great ambition, made from grapes Pecorino, Pinot Grigio and Incrocio Manzoni 6.0.13
It is a wine that shows a perfect combination of these three varieties, highlighting the qualities of each one in a single glass.
The color is the acidity of the Pecorino, enchanting scents of Pinot Grigio and strong flavor of balsamic Incrocio Manzoni.
Very fruity to the nose with a slight spicy touch, the taste is dry and medium bodied presenting a long finish and a refined balance with hints of apple, pear and peach, and at the same time presenting spicy notes of hawthorn and broom flowers.
WINE
Cryo maceration in press at 6 ° C for 6-12 hours. Cold settling of the juice for 24 hours. Alcoholic fermentation at a controlled temperature to 12 ° C in steel containers. Racking, fining and organic storage of 3-4 months.
VISUAL INSPECTION
Crystal clear, straw yellow with greenish reflection; consistent fluidity.
OLFACTORY
Of great impact; It expresses intense floral, fruity-aromatic. Persistent and end
TASTE CHARACTERISTICS
Dry, warm, soft, fresh and full-bodied, balanced; intense and persistent flavors of ripe fruit, apple, peach, pear and citrus. Spicy with notes of hawthorn, broom and herbs. Very nice fine quality with good evolution over time. Perfect with shellfish and cod over risotto, first courses and fish.
Click to listen highlighted text!
Address
Street: Via Scannella
Postcode: 65014
State: Abruzzo
Province: Pescara
City: Loreto Aprutino
Country: Italy